Description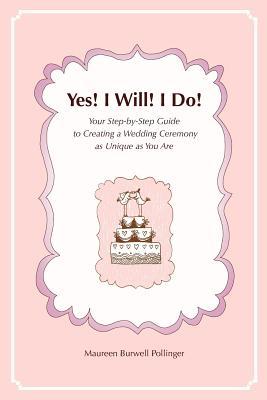 Yes! I Will! I Do!: Your Step-By-Step Guide to Creating a Wedding Ceremony as Unique as You Are by Maureen Burwell Pollinger
October 1st 2011 | Paperback | PDF, EPUB, FB2, DjVu, audiobook, mp3, ZIP | 428 pages | ISBN: 9780615510439 | 8.15 Mb
Maureen Burwell Pollinger has been writing and designing unique, custom wedding ceremonies throughout the richly ethnic and diverse, New York Tri-State area---and beyond---for over twenty-two years. Yes! I Will! I Do! is the quintessential guide to creating and designing an exceptional, unique and customized wedding ceremony for all couples within all faith traditions.
This rich resource book is so much more than a wedding ceremony handbook. It is an information guide that shepherds couples through all the detailed minutia of ceremony preparation and planning. Included in the ceremony wording section is a vast resource of ceremony texts and samples for all the tastes, styles and traditions of all couples planning their wedding... the choices are infinite. For those who prefer, there is even a selection of ready-made ceremonies available. The author painstakingly---and often humorously---addresses every conceivable issue of ceremony planning from the moment of the procession to the final pronouncement.
The chapter on avoiding a wedding disaster, which is drawn from Maureen Pollingers own life experience as a wedding celebrant, is not only essential to all couples planning to be married, it is also delightfully funny. For couples planning a wedding ceremony, a vows renewal ceremony or a commitment ceremony, this book is the complete guide, and the only one they will ever need.